Various options are available
when ordering decals or vehicle magnets.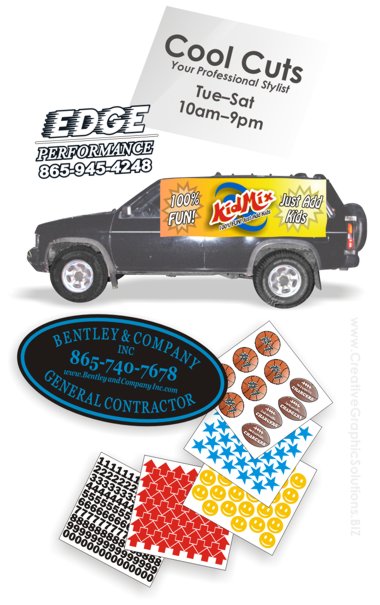 Custom Decals
Full color or solid color vinyl.
Basic shapes or special contour-cut.
Premasked for detailed contour-cutting or non-premasked for small, basic shapes.
By the sheet or separated and stacked.
Custom Vehicle Magnets
Full color or single color.
Square cut or special shape.
Magnet size, (18"x12" is typical for a car magnet, while larger trucks might accommodate a 18"x24" magnet).
Optional lamination.
Magnetic-backed banners for stationery vehicles.
Custom decals
can be used on storefront windows as well as company vehicles. Special decals can also be ordered for interior walls and floors. Place your business logo, number or web address anywhere prospective customers will see it.
Vehicle magnets
are a great option for temporary or moveable graphics. They can be ordered in custom colors so the background blends with your vehicle while the graphics stand out. (See the
Vehicle Graphics
section for custom design services.)
To order or for information contact:

Creative Graphic Biz
Design, Web, and Print Services