(Label color options listed at bottom of page.)

Qty
500
1,000
2,000
3,000
5,000
10,000
15,000
25,000
0.75"×2" Label Standard
$41.99
$51.99
$87.99
$115.99
$136.99
$209.99
$263.99
$318.99
1"×2" Label Standard
$41.99
$51.99
$87.99
$115.99
$136.99
$209.99
$263.99
$318.99
1"×2.5" Label Standard
$43.99
$54.99
$95.99
$125.99
$153.99
$239.99
$313.99
$453.99
1"×3" Label Standard
$43.99
$54.99
$95.99
$125.99
$153.99
$239.99
$313.99
$453.99
250
500
1,000
2,000
3,000
5,000
Weatherproof
$92.99
$123.99
$180.99
$203.99
$236.99
$269.99
Weatherproof
$92.99
$123.99
$180.99
$203.99
$236.99
$269.99
Weatherproof
$95.99
$126.99
$183.99
$244.99
$292.99
$343.99
Weatherproof
$95.99
$126.99
$183.99
$244.99
$292.99
$343.99

Qty
500
1,000
2,000
3,000
5,000
10,000
15,000
25,000
1.5"×3" Label Standard
$48.99
$60.99
$107.99
$146.99
$198.99
$289.99
$382.99
$589.99
2"×2" Label Standard
$46.99
$58.99
$103.99
$137.99
$189.99
$269.99
$345.99
$453.99
2"×3" Label Standard
$51.99
$64.99
$111.99
$149.99
$209.99
$299.99
$394.99
$589.99
2"×4" Label Standard
$54.99
$68.99
$123.99
$167.99
$234.99
$349.99
$464.99
$648.99
250
500
1,000
2,000
3,000
5,000
Weatherproof
$102.99
$133.99
$189.99
$262.99
$324.99
$388.99
Weatherproof
$99.99
$129.99
$186.99
$260.99
$318.99
$362.99
Weatherproof
$105.99
$135.99
$193.99
$265.99
$341.99
$440.99
Weatherproof
$112.99
$143.99
$198.99
$269.99
$346.99
$495.99
Qty
500
1,000
2,000
3,000
5,000
10,000
15,000
25,000
1" Circle Sticker Standard
$39.99
$49.99
$85.99
$110.99
$132.99
$189.99
$246.99
$318.99
1.5" Circle Sticker Standard
$43.99
$54.99
$95.99
$125.99
$153.99
$239.99
$313.99
$453.99
2" Circle Sticker Standard
$46.99
$58.99
$103.99
$137.99
$189.99
$269.99
$345.99
$453.99
3" Circle Sticker Standard
$57.99
$72.99
$127.99
$170.99
$239.99
$359.99
$472.99
$648.99
250
500
1,000
2,000
3,000
5,000
Weatherproof
$99.99
$129.99
$186.99
$260.99
$318.99
$362.99
Weatherproof
$115.99
$146.99
$201.99
$271.99
$349.99
$528.99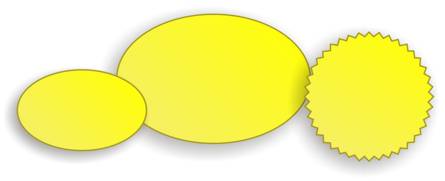 Qty
500
1,000
2,000
3,000
5,000
10,000
15,000
25,000
1.25"×2" Oval Label Standard
$43.99
$54.99
$95.99
$125.99
$153.99
$239.99
$313.99
$453.99
2"×3" Oval Label Standard
$51.99
$64.99
$111.99
$149.99
$209.99
$299.99
$417.99
$589.99
2" Seal Standard
$46.99
$58.99
$103.99
$137.99
$189.99
$269.99
$345.99
$453.99
250
500
1,000
2,000
3,000
5,000
Weatherproof
$95.99
$126.99
$183.99
$244.99
$292.99
$343.99
Weatherproof
$105.99
$135.99
$193.99
$265.99
$341.99
$440.99
Weatherproof
$99.99
$129.99
$186.99
$260.99
$318.99
$362.99
Standard Inks
Black; Brown; Burgundy; Golden Yellow; Green; Hunter Green; Orange; Process Blue; Red; Reflex Blue; Rubine Red; Teal; Violet; and Yellow.
Pricing indicated is for single color labels and stickers.
Standard, Non-Weatherproof Stock Options
Ivory Semi-Gloss, Standard Natural Kraft, White, Yellow, Blue, Gold Foil, Silver Foil, Green Fluorescent, Orange Fluorescent, Pink Fluorescent, Purple Fluorescent, Red Fluorescent, and Yellow Fluorescent.
Weatherproof Stock Options
Clear, White, Shiny Silver, Matte Silver, and Yellow.
Special Options
Other options, (such as removable labels or special colors) are available at similar, or additional cost.
To order or for information contact:

Creative Graphic Biz
Design, Web, and Print Services