Qty
500
1,000
2,500
5,000
10,000
15,000
20,000
Full Color Letterhead
$199.99
$269.99
$339.99
$549.99
$959.99
$1,369.99
$1,779.99
250
500
1,000
2,000
3,000
4,000
1 Color Raised Print on Linen Stationery
$56.31
$66.40
$88.25
$151.29
$206.76
$262.23
2 Color Raised Print on Linen Stationery
$73.82
$87.41
$112.76
$186.31
$259.29
$332.27
Full color letterhead uses plain white stationery with optional full-coverage printing.
Raised print pricing is for Black, Red, or Reflux Blue on White Linen or Grey Linen stationery. Other stationery and ink options available at extra charge, (see below).
Ask about professional design and layout assistance.
Stationery and Ink Options
for Raised Print Letterhead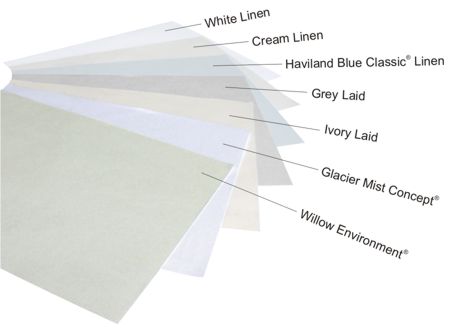 "Linen" has as a subtle crosshatch texture pattern, while "Laid" material is characterized by soft parallel ridges. (The distinct features of "Linen" and "Laid" material are best seen in the close-up photo of the Natural White cardstock in the
Business Cards section
.)
The "Glacier Mist" and "Willow Environment" papers have a smooth texture and are characterized by light speckles and flecks throughout.
The following 2 color ink combinations are available for raised print letterhead:
Black with any other color.
Reflex Blue with Brown, Gold, Grey, or Red.
Brown with Orange
Grey with Maroon
Red with Green
To order or for information contact:

Creative Graphic Biz
Design, Web, and Print Services